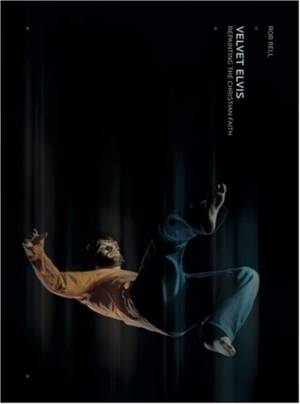 I still don't understand this
cover, and I've read the
book 6 times!!!
My family and I first attended church when I was in the 2nd grade. It was the huge baptist church that had (and may still have) one of the largest influences in my quaint hometown of 6,000. Seriously, 600 people is a pretty large majority in a ranching town (For the record, average attendance was between 300-400, but holidays brought in up to 600). The funny thing is... I loved church! I could partake in mischief with friends, color tiny paper cutouts of famous Jewish heroes, craft little treasures that I still cannot find to this day, eat gratuitous amounts of candy, and school my "less educated" contemporaries in Bible trivia (I was a very arrogant child. I'm still pretty arrogant today, actually. Some things never change). The church became my home away from home, and I loved going! And when youth group came around? Ha! I was a man, by golly! A man who could go to concerts on his parents' money! How could it get any better!?! This was my equivalent to a church life for many years. The theology? Irrelevant to someone my age. The Bible? Easy-train to looking smarter than everybody else! So the church was the go-to place for fun and finding my own selfish worth. In all of my years there, Christ probably did in fact speak to me. I'm sure he did. But when you're eating snacks and going to amusement parks, who cares what Christ has to say?
Nothing lasts forever (scratch that, Twinkies last forever). I was a freshman in high school during "the split." The church suffered a schism... Not over an extra-marital affair. Not over a crime. Not even over disagreement with a church doctrine. My church split over a call to reach out to the community. And, even more ridiculously, a single book wrecked what was left after that call... Something so trivial as a book destroyed the decades-long relationships within my church. That book was Velvet Elvis, by Rob Bell. So let the record show: Rob Bell ruined my easy-going, comfortable life!
This book is a difficult read for one reason: Bell dares his readers to ask questions. His theology is ambiguous and is not really given clarity at most points. The writing is very simple, which isn't really a bad thing I suppose. Just too seemingly simple for a difficult topic, the claim that he is trying to "repaint the Christian faith." And the organization is pretty scattered. I do not claim to agree with much of what Rob Bell says, whether in this book or others, but I do like his tendency to make a person ask questions.
Questions are how we grow. So often, unfortunately, we are taught to not question within the church. The view of pastors as having perfect knowledge of the Bible is far too prevalent within the faith. Trust me, I know! I grew up in that! But there comes a time when one must read for oneself. There comes a time when one must ask questions of oneself. And finally, there comes a point when one must choose what they believe and know why they believe it!
I guess this post is just a ridiculously roundabout way of conveying this: question things! We grow in questioning. It is in the process of searching for answers that we become the humans that we are meant to be. Don't believe the myth that somebody on this Earth has all of the answers for you. Nobody does. Trust, pray, and ask questions instead. Our God is a big god... He can handle your inquiries. Also, read Velvet Elvis sometime. While I may not agree 100% with what Bell has to say, he has a heart for people. How can I frown upon that?
Maybe Troy, maybe not... Nope, still just
Troy